The ingredients of 9Skincare Essential Serum
We know that transparency of our product composition is essential for our clients. Here you will find all the ingredients and their functions.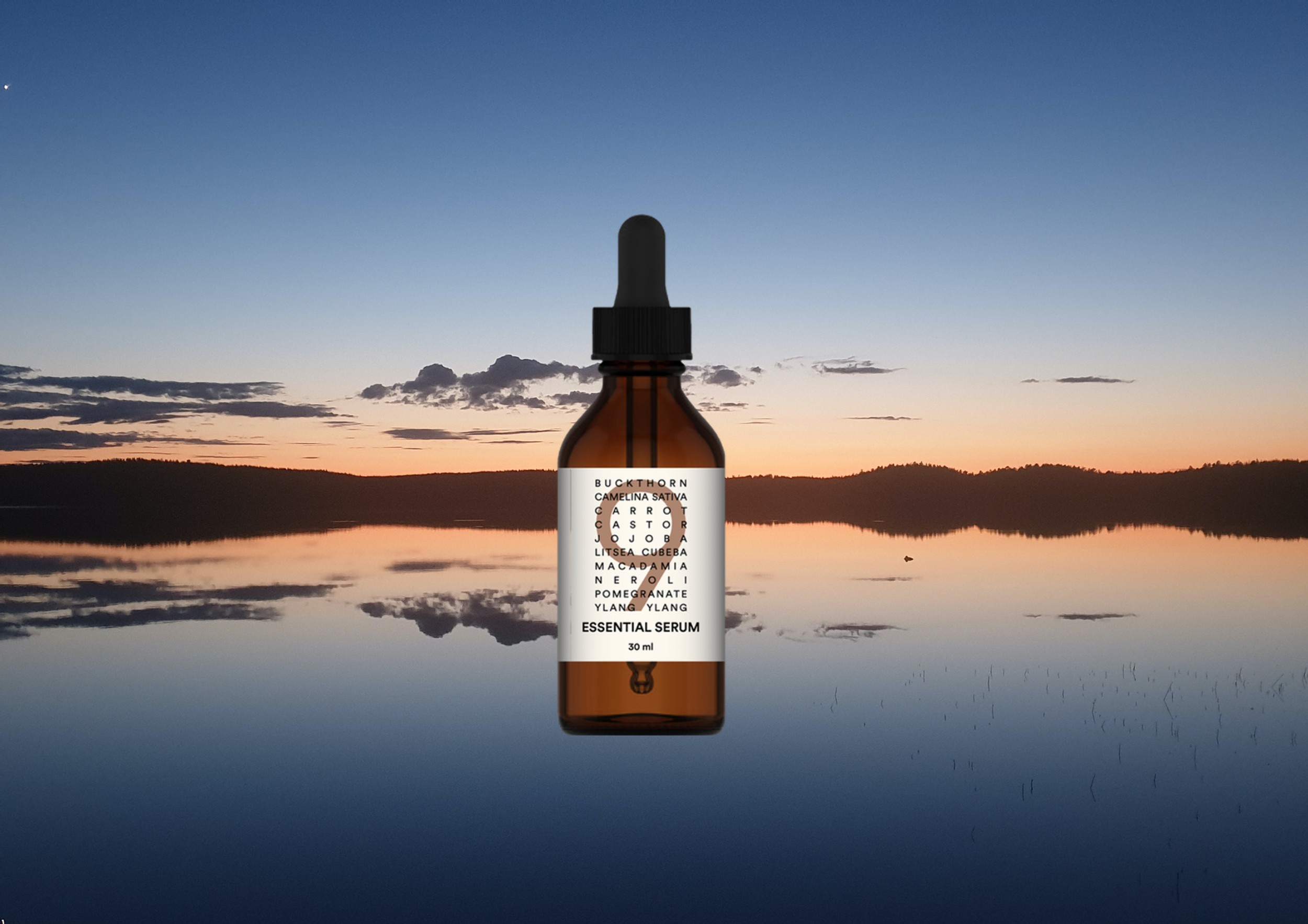 1
Macadamia Integrifolia Seed Oil (Macadamia)
Macadamia native to Australia; the world's most expensive nut.
Macadamia nut oil contains extremely high levels of beneficial fatty acids.
It restores the skin's barrier function and prevents trans epidermal water loss (TEWL), toxin infiltration and environmental damage to the skin. This helps the skin stay hydrated and healthy and look younger and smoother.
2
Helianthus Annuus Seed Oil (Sunflower)
Sunflower, native to North America; called sunflower because the flowers follow the sun.
Sunflower seed oil contains a very high content of Linoleic Acid, also known as Vitamin F, which moisturizes the skin, making it firmer and more resilient.
It strengthens and protects the skin barrier and protects the skin from external free radicals.
3
Caprylic / Capric Triglyceride (Coconut)
Coconut – obtained from coconuts
Fatty acid ester derived from Coconut, possesses great Antioxidant properties.
Provides skin care benefits, smooths the skin, and promotes a silky feel on the skin.
Caprylic / Capric acid triglycerides help improve the delivery of other key ingredients so that they can be fully absorbed by the skin.
4
Camelina Sativa Seed Oil (Camelina, False Flax)
Camelina, False Flax – Native to Europe and Central Asia; also known as gold of pleasure.
We have selected Finnish Camelina, which grows under the midnight sun for its highest number of active ingredients.
Camelina oil contains exceptionally high levels of Omega-3 fatty acids, especially Alpha-Linolenic Acid, which has excellent anti-inflammatory properties.
It also contains an unusually high amount of Cholesterol that supports and strengthens our skin barrier.
5
Punica Granatum Seed Oil (Pomegranate)
Native to Central Asia; Pomegranates symbolize beauty, fertility and eternal life.
Pomegranate seed oil contains a very high content of very rare Punic acid, known as Omega-5 fatty acid.
Punic acid has powerful anti-inflammatory effects.
Research has shown that Punic acid has excellent nourishing and moisturizing properties and can also promote epidermal regeneration.
It is also very rich in Antioxidants and Polyphenols that give the oil natural protective qualities with which it protects the skin from Uv-radiation and free radical damage.
6
Squalane (olive)
Squalane is a skin-identical oil that occurs naturally in our skin but declines as we age.
It is great for reducing fine lines or wrinkles while softening skin texture.
Prevents Trans epidermal water loss, soothes and prevents irritation.
7
Hippophae Rhamnoides Oil (Sea Buckthorn)
Native to Eurasia; exceptionally hardy plant that withstands temperatures down to -43°C / -45°C the Sea Buckthorn berry is one of nature's most powerful plants.
It offers one of the widest ranges of nutrients from a single source found on earth, including Antioxidants, Vitamins, Minerals, and Polyphenols, Omega fatty acids, Carotenoids and more.
Sea buckthorn oil is a great powerhouse with a high content of Omega-7 fatty acids.
It contains large amounts of natural vitamins A and E.
Sea buckthorn oil has been proven to increase skin hydration, elasticity and cell regeneration, and help treat and prevent acne. Sea buckthorn oil has anti-inflammatory properties that help reduce swelling and redness associated with many skin conditions, including eczema, psoriasis, and rosacea.
8
Helianthus Annuus (sunflower) seed oil and beta-carotene (Root)
Sunflower infused Root grows in Europe and Southwest Asia.
Sunflower-infused Root tissue oil provides the skin with essential antioxidants when applied topically.
The oil helps soothe dry or irritated skin and promotes cell regeneration, among other things, softening wrinkles and stretch marks.
9
Ricinus Communis Seed Oil (Castor)
Native to East Africa; Also called Palma Christi, which stems from Castor oil's purported ability to heal wounds and ailments.
Castor oil is unique in that its main fatty acid is a Hydroxy fatty acid, which means it has superior emollient properties.
Castor oil improves blood flow to the skin.
The main fatty acid Ricinoleic acid helps protect the skin from harmful bacteria and viruses, preventing irritation, redness and acne.
Ricinoleic acid is also an effective moisturizer that easily penetrates the skin to soothe and soften dry, rough patches.
Stimulates the production of Elastin and Collagen, reducing the signs of aging.
It is also very soothing and super hydrating, great for dehydrated or flaky skin.
Studies show it helps reduce clogged pores.
10
Simmondsia Chinensis Seed Oil (Jojoba)
Native to North and Central American deserts; the O'odham people of the Sonora Desert treated burns with an Antioxidant ointment made from a paste of the Jojoba nut.
This oil is essentially a liquid wax that is bio-similar to the skin's own sebum.
Therefore, it helps to control sebum production in overactive cases.
Because it is skin identical, it charges the other actives to penetrate deeper into the skin.
It has analgesic and anti-inflammatory benefits that are great for repairing an affected skin barrier.
Also stabilizes other natural oils and has been shown to reduce superficial facial lines.
11
Tocopherol
This Antioxidant superhero, also called Vitamin E, provides amazing protection for your skin.
Tocopherols make up 96% of the skin's natural antioxidant defense system.
It protects the skin from various harmful effects due to solar radiation because it acts as a free radical scavenger.
We use Tocopherol from Sunflower, which is 100% natural and gluten-free.
12
Daucus Carota Fruit Oil (Carrot)
Native to Europe and Southwest Asia; images of these carrots have been found on the walls of ancient Egyptian tombs.
It is believed that it took hundreds of years for carrots to be planted as a common food crop, as they were originally grown exclusively for medicinal purposes.
Carrot seed oil is great for repairing skin damage and firming tissues, toning the skin and preventing sagging.
Possesses great revitalizing and regenerating properties of the skin and helps against excess moisture retention.
13
Boswellia Certerii Gum Oil (Incense, Frankincense)
Native to the Arabian Peninsula and northeast Africa; the English word frankincense is derived from the old French expression Franc Encens, meaning "Frankincense of high quality."
The word franc in Old French meant "noble" or "pure.
The astringent and Cyto Phylactic properties of Frankincense help the oil to reduce the appearance of wrinkles and skin imperfections such as discoloration.
Used medicinally, this anti-inflammatory oil is known to soothe inflamed skin by reducing redness, swelling and itching. It also helps disinfect and shrink pores. It is widely used to stimulate the growth of new skin cells and boost blood flow and circulation.
14
Cananga Odorata Flower Oil (Ylang Ylang)
Native to Southeast Asia; the name Ylang Ylang, the common name for this beautiful plant, comes originally from Austronesian Tagalog.
Essential oil of Ylang Ylang is anti-inflammatory and supports the balance of oil production in the skin.
It can also stimulate the growth of new cells, loosen tight muscles and smooth wrinkles.
15
Herbal oil Lavandalus Angustifolia (lavender)
Native of the ancient world; Arab physicians have used and recommended lavender to cleanse deep wounds and facilitate healing. The herb became even more popular during the plague when it was used in the famous Four Thieves Vinegar to repel fleas.
Lavender oil is a powerful source of antioxidants and other beneficial phytochemicals, making it useful for fighting the signs of premature aging. Antioxidants fight free radicals caused by environmental stressors such as UV rays and pollution.
The anti-inflammatory properties of lavender oil make it an excellent remedy for soothing and healing irritated skin.
16
Litsea Cubeba Fruit Oil (Mei Chang)
Native to Southeast Asia; it is called "mountain pepper" Mandarin and Maqaw by the Aborigines of Atayal in Taiwan.
May Chang essential oil helps balance sebum production, firm the epidermis and reduce the appearance of pores.
17
Citrus Aurantium Flower Oil (Bitter Orange Flower)
Native to northeast India; Neroli is named after the seventeenth-century Italian princess of Nerola, Anna Maria de La Tremoille, who wore the oil in her gloves.
Neroli oil stimulates the regeneration of skin cells, preventing scarring. This makes Neroli a fantastic ingredient against age spots and scars.
In addition to its restorative properties, Neroli oil is also antiseptic and anti-inflammatory, making it useful for treating pimples and acne and reducing the redness associated with pimples. Neroli as a skin care product can also be used to treat oily skin, reduce fine lines and moisturize all skin types.